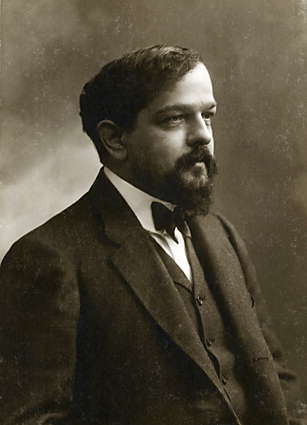 Claude Debussy
Claude Debussy was a French composer ranking among the most influential composers of the late nineteenth and early twentieth centuries. He is most often identified as the founder and leading musical innovator of the
Impressionist movement
(alongside fellow Frenchman Maurice Ravel.) Despite his importance to the development of the field, he strongly resisted such labeling of his composition style.
Debussy's music is noted for its sensory component and for not often forming around one key or pitch, as well as in employing non-traditional scales and tonal structures (such as the "Oriental" sounding pentatonic scale.) Often Debussy's work reflected the activities or turbulence in his own life. In French literary circles, the style of this period was known as
symbolism
, a movement that directly inspired Debussy both as a composer and as an active cultural participant.
Among his many different works
La Mer
, which is available here as orchestral parts, is one of many recognizable works which embody Debussy's unique sound.
Exclusive Debussy Scores for Strings from Ovation Press
Loading Product Listings…