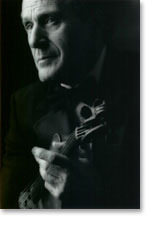 Roland Vamos
Roland Vamos graduated from the Juilliard School, where he received B.S., M.A., and D.M.A. degrees in violin and viola. He has held principal positions in the Denver, Houston, and Radio City Music Hall Orchestras. He was a member of the Morningside and Lydian Trios, Contemporary and Antioch Quartets, and recorded for Coronet, Rizzoli, and with the Modern Jazz Quartet for the Atlantic labels. He has concertized and conducted concerts in the United States, Taiwan, Korea, Greece, Australia, and Iceland.
Dr. Vamos's students have won top prizes in many national and international competitions including Gold Prizes in the Tchaikowsky Youth Competition, Carl Flesch, Menuhin, Bach (Leipzig), and Silver Prizes in Tchaikowsky, Szigeti, Kreisler, Neilsen, and Bronze Prizes in Paganini and Montreal Competitions. This year, his students have won Grand Prize in WAMSO, Blount, and First and Second Prizes in the Fischoff Competition and three of his former students have attained positions in the New York Philharmonic. His students are members of the Boston, St. Louis, San Fransisco, Los Angeles, Washington, Minnesota, Chautauqua, Hong Kong, Oslo Philharmonic, and many other symphony orchestras around the world.
Dr. Vamos has won the Presidential Award for Excellence in Teaching four times, the ASTA Distinguished Teacher of the Year Award and has been featured on "Sunday Morning" CBS.
Dr. Vamos was professor at Western Illinois University, University of Minnesota, Oberlin Conservatory, and presently distinguished professor at Northwestern University. He has taught at many summer festivals including Meadowmount, Bowdoin, Chautauqua, Schlern International Music Festival, Niagara International Music Festival, Amati Festival, and is co-founder of the Weathersfield Music Festival. Dr. Vamos is the conductor of the American Chamber Orchestra at the Music Institute of Chicago.
Roland Vamos has recently published
Exercises for the Violin in Various Combinations of Double-Stops (for Violin)
available on Amazon.
Loading Product Listings…