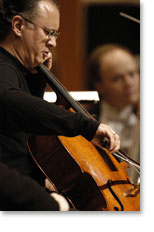 Mihai Tetel
Mihai Tetel began his musical studies in his native Romania at the famed George Enescu Music School. Settling in Canada in 1979, he graduated in 1984 from the University of Toronto as a honors student of the celebrated virtuoso, Vladimir Orloff. He earned a master's degree from the Juilliard School in 1986, and a Professional Studies Diploma from the Mannes School in New York in 1988. His principal cello teachers have included Lorne Munroe and Timothy Eddy.
Tetel was a winner of the 1987 Artists International Competition which awarded as its prize a New York recital debut at Weill Hall of Carnegie Hall. Prior competition triumphs include First Prize in the Koussevitsky Competition (1984), Montreal Symphony Competition (1983), Canadian Music Competition (1982), and the Toronto Symphony Concerto Competition (1980).
He has appeared as soloist with the Montreal Symphony, Toronto Symphony, Calgary Philharmonic, Edmonton Symphony, Muncie Symphony, Sao Paulo Symphony (Brazil), Thessaloniki Symphony (Greece), and the Odeion Wind Ensemble (Holland), collaborating with conductors such as Charles Dutoit, Andrew Davis, and Boris Brott.
As a recitalist, he has toured Canada, Chile, Colombia, Hungary, Japan, Romania, and the United States.
Tetel is presently Associate Professor of Cello at the Hartt School in Connecticut. Prior to his appointment at Hartt, Tetel has been on the faculty of Ball State University and the Glenn Gould Professional School of the Royal Conservatory in Toronto, and has served as Director of the Alberta College Conservatory of Music in Edmonton.
He has been invited to give master classes at the University of Michigan, Southern Methodist University, Oberlin Conservatory, University of Arizona, DePaul University, Cleveland Institute of Music, Baldwin-Wallace Conservatory, St. Olaf College, University of Minnesota, Lawrence University, Indiana University String Academy, McGill University, Camp Encore, Meadowmount, Royal Academy (Seoul, Korea), and Shuan-Yin International Festival (Taiwan).
Tetel is director and founder of the ARIA International Summer Academy, a highly successful program which offers intensive, professional training to young musicians from all over the world.
He has recently released a CD of works by Kreisler, Sibelius, Tagell, Brahms, Weber, Handel, Debussy, Rochberg, Catalani, Castelnuovo-Tedesco, and Haydn on the Beneficence label, entitled La Gitana. He has also recorded an album of Spanish works by Sarasate, Granados, Nin, de Falla, Cassado, and Albeniz on the Tristan label, entitled Dance of Terror. Tetel has collaborated on several CD's with cellist Ofra Harnoy for the RCA-Red Seal label.
His performances have been broadcast on National Public Radio, Indiana Public Radio, and the Canadian Broadcasting Corporation.
As chamber musician, Tetel has collaborated with the Orion Quartet, violinists James Buswell, Lynn Chang, Ilya Kaler, Mikhail Kopelman, Oleh Krysa, Keng-Yuen Tseng, and Peter Zazofsky; violists Atar Arad, Victoria Chiang, Patricia McCarty, and Marcus Thompson; pianists Edmund Battersby, Robert McDonald, Yong-He Moon, Robert Palmer, Antonio Pompa-Baldi, Daniel Shapiro, and Barry Snyder; flutists Bonita Boyd, Carol Wincenc, and Eugenia Zuckerman.
Below you will find the complete list of scores edited by Mihai Tetel.
Loading Product Listings…