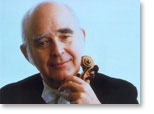 Joseph Silverstein
Internationally acclaimed conductor and violinist Joseph Silverstein, Principal Guest Conductor of Seattle's Northwest Chamber Orchestra, was Music Director of the Utah Symphony Orchestra from 1983 until 1998. He became Conductor Laureate in the 1998-99 season. He was Music Director of the Chautauqua Symphony from 1986-87 through 1988-89.
Born in Detroit, his first teacher was his father Bernard, who was a music instructor in Detroit's public school system. His formal training took place at the Curtis Institute of Music in Philadelphia and his teachers included such luminaries as Josef Gingold, Mischa Mischakoff, and Efrem Zimbalist. After leaving the Curtis Institute in 1950, Mr. Silverstein spent three seasons with the Houston Symphony; one with the Philadelphia Orchestra, and one season as concertmaster and assistant conductor of the Denver Symphony. He joined the Boston Symphony in the fall of 1955 and was a member of the violin section for seven seasons. He became concertmaster in 1962 and assistant conductor in 1971, holding both positions through the 1983-84 season. During his tenure at Boston, he conducted the orchestra on more than 100 occasions in the United States, Canada and abroad. He has also served as artistic advisor to the Hartford Kansas City, Louisville, Baltimore, Toledo, Virginia, Florida, Alabama, Winnipeg and Oakland Symphony Orchestras and Interim Music Director of the Florida Philharmonic from January 2002 through May 2003.
As a conductor and soloist, Mr. Silverstein has appeared with hundreds of orchestras in the United States, as well as in Japan, Israel and Europe. As a participant in major international competitions, he was the Silver medallist in the 1959 Queen Elizabeth Competition in Brussels, and also won the Walter W. Naumburg Award in 1960. In recent seasons, he appeared in recital in Boston, New York, Cleveland, Detroit and Philadelphia. Future and recent-past engagements with Mr. Silverstein conducting and appearing as soloist include the Berlin Symphony, the Florida Orchestra and Florida Philharmonic, the National Symphony Orchestra of Taiwan, the Winnipeg Symphony, the Hartford Symphony, as well as appearances at the Verbier Festival in Switzerland, the Aldeburgh Festival of England, and at the prestigious Teatro Comunale di Ferrara in Italy. In the fall of 2001, Mr. Silverstein toured major European cities as a member of a piano quartet that includes Pierre-Laurent Aimard, pianist; Tabea Zimmermann, violist, and Jean-Guihen Queyras, cellist.
Mr. Silverstein organized the Boston Symphony Chamber Players in 1964 and served as Music Director of that ensemble until coming to the Utah Symphony. He led eight international tours, as well as many United States tours. He has been a member of the faculties at Yale University, Boston University and the Tanglewood Music Center. He also holds honorary degrees from Tufts University, Boston College, Rhode Island University and the New England Conservatory. He is a member of the string faculty of the Curtis Institute of Music as well as the Longy School of Music in Cambridge, Massachusetts. Additionally, he is also an artist member of Chamber Music Society of Lincoln Center in New York.
Mr. Silverstein has recorded extensively for RCA, Deutsche Grammophon, CBS, Nonesuch, and New World Records, Telarc and Pro Arte. His Telarc recording of Vivaldi's "Four Seasons" with the Boston Symphony Orchestra received a Grammy nomination. Other recent recordings, on which Mr. Silverstein is both conductor and featured soloist, are with the Utah Symphony on Pro Arte. They include an all-Mendelssohn album, an all-Beethoven album, an all-Barber, a Grieg/Schumann recording, and recordings featuring the Brahms, Tchaikovsky, Dvorak and Sibelius Violin Concerti.
Laura Kelley wrote an
article about Joseph Silverstein
for the Curtis Institute of Music's publication
Overtones
.
Below you will find the complete list of scores edited by Joseph Silverstein.
Loading Product Listings…