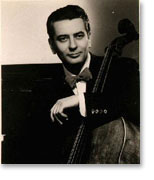 Luigi Silva
Born in Milan, Italy Nov. 13, 1903, Luigi Silva came from a musical family: his father was a voice teacher of some renown and his mother was a Viennese singer. At the age of 5, Silva began taking piano lessons with his father, and started his study of cello three years later. In addition to taking cello lessons with Arturo Bonucci in Bologna, Silva also studied composition with Respighi in Rome, but his small hands and frail health prevented him from being accepted for study with famous masters. Silva received a degree in cello from the Bologna Conservatory, and a master's degree in music pedagogy (cum laude) in 1921.
Silva performed throughout Europe during the 1920s and 1930s. He was cellist in the Rome Opera Orchestra, and won the Boccherini Prize at the First National Contest for young concert artists in Rome in 1933. This may have triggered his lifetime interest in Boccherini's cello compositions. He was cellist in the Quartetto di Roma, and taught at the Cherubini Conservatory in Florence.
In 1939 Silva emigrated with his wife and father to the United States, settled in California and eventually became an American citizen. The family moved to New York in 1940, and from 1941-1949 Silva was head of the cello and chamber music departments at the Eastman School of Music in Rochester, NY. From 1949 he taught at the Juilliard School of Music in New York, at the Mannes College of Music, and the Yale University School of Music. He was cellist of the Mannes-Gimpel-Silva Trio.
Silva's great talent rested in his superb ability to teach young people just beginning to play the cello. His special interest in developing the left hand technique of his students probably stemmed from his own problem of having small hands.
John W. Lambert wrote a terrific
article about Luigi Silva
as part of the University of North Carolina-Greensboro's Silva Centennial Celebration.
Below you will find the complete list of scores edited by Luigi Silva.
Loading Product Listings…