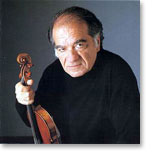 Ruggiero Ricci
Ruggiero Ricci made his debut in 1928 at the age of 10 in San Francisco playing a formidable programme of works by Vieuxtemps, Saint-Saens, Mendelssohn and Wieniawski, astounded the audience and started him on the road to early stardom. His consecration as a world class "wunderkind", one of the 20th century's few authentic prodigies, came in New York when the leading critic of the day wrote: "All that great violinists do, he did."
He made this first tour of Europe in 1932 at the age of 14, a highly sensationalised series of concerts with the world's greatest orchestras; he continued to play extensively until, ironically, the Army Air Force put a stop to his world travels. He enlisted at the beginning of the war and became "Entertainment Specialist Ricci". During those three years he played and broadcast hundreds of concerts under a variety of unusual conditions, often without an accompanist, exploring and presenting the largely unexploited solo violin repertoire. Since then he remained an enthusiastic exponent of the solo recital, basing a majority of his yearly programmes on the solo works of Bach, Paganini, Wieniawski, Kreisler, Ernst, Bartok etc. His was the first recording of the unadulterated Paganini Caprices, and he performed the US premieres of both the 4th and 6th concerti. Not surprisingly, Ricci is recognised as having greatly contributed to the world's renewed appreciation and affection for the great 19th century composers, though he maintained a broad repertoire of over 50 concerti. He performed the world premieres of several distinguished contemporary composers, including Alberto Ginastera, Gottfied von Einem, Alexander Goehr, Joseph White, Gerard Schurmann and Carlos Veerhoff. His discography lists more than 500 recordings, including 65 CDS. His fourth recording of the Paganini Caprices was made for the first time on Paganini's own Guarneri, exceptionally lent to Ricci by the City of Genoa.
Ricci's first teacher, from the age of six, was Louis Persinger. He later studied with Michel Piastro, Paul Stassevitch and Georg Kulenkampf. Teaching posts included Indiana University, the Juilliard School and the University of Michigan. His book
Left Hand Technique
was published by G. Schirmer.
Ruggiero Ricci passed away on August 5th, 2012. To learn more about his career and recordings please visit the Ruggiero Ricci website at
www.ruggieroricci.com
.
Below you will find the complete list of scores edited by Ruggiero Ricci.
Loading Product Listings…