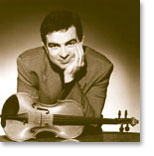 Gerardo Ribeiro
Long held as Portugal's premier violinist, Gerardo Ribeiro is recognized on four continents as one of the truly important violinists of his generation. With acclaimed recitals at New York city's most prestigious concert venues - Carnegie Hall, Alice Tully Hall and the Metropolitan Museum - Mr. Ribeiro has also appeared at Washington, D.C.'s Kennedy Center, and is well known in major European, South American and Far Eastern Concert halls.
As a concerto soloist, Mr. Ribeiro has appeared with the Philadelphia Orchestra, the Montreal, Dallas, Lucerne, Lisbon, Barcelona and Cali Symphony Orchestra, the Radio Orchestras of Paris (O.R.T.F.), Berlin, Hilversum (Holland) and North Germany (Hannover) and other leading ensembles. Also active in chamber music, he has served as artistic director of the International Chamber Music Institute in Munich and has performed at the Marlboro and Lucerne International Music Festivals.
Beginning violin studies at age 4, Ribeiro went on to earn honors at the Lucerne conservatory, later attending the Juilliard School, where he studied with Ivan Galamian, Paul Makanowitzky and Felix Galimir. Numerous awards in distinguished international competitions followed, including First Prizes at the Vienna de Motta contest in Lisbon and the Maria Canals competition in Barcelona. After serving on the violin faculty of the Eastman School of Music, Mr Ribeiro joined the faculty at Northwestern University as professor of violin. In 2001 he was awarded the Presidential Scholars Teacher Recognition Award from the White House's Commission on Presidential Scholars.
Gerardo Ribeiro's recordings are available on the EMI and RCA labels. He has recorded the complete violin sonatas of both Brahms and Beethoven, along with violin concerti by Mendelssohn, Brahms, Tchaikovsky, Strauss and others.
Mr. Ribeiro was recently decorated by the President of Portugal as Commander of the Order of Prince Henry the Navigator.
Below you will find the complete list of scores edited by Gerardo Ribeiro.
Loading Product Listings…