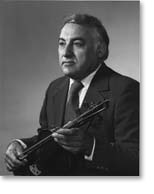 Joseph de Pasquale
A 1942 Curtis graduate, Mr. de Pasquale studied with Louis Bailly, Max Aronoff and William Primrose; he also prizes his association with Jascha Heifetz and Gregor Piatigorsky, with whom he recorded and performed in Carnegie Hall. Mr. de Pasquale joined the Boston Symphony Orchestra as principal viola in 1947. In Boston, he premiered a concerto composed for him by Walter Piston and gave the first Boston performances of concertos by Walton and Milhaud. He joined the Philadelphia Orchestra as principal viola in 1964, a position he held until his retirement in 1996. He has appeared as a soloist frequently with the Philadelphia Orchestra and has also made numerous appearances as a soloist with other orchestras in the United States and abroad, including the Hanover Symphony under Aldo Ceccato and the Hamburg Symphony under Klaus Tennstedt. Mr. de Pasquale is currently a faculty member of the Peabody Institute of the Johns Hopkins University and has served on the faculties of the Indiana University School of Music, New England Conservatory of Music and Tanglewood Institute. A member of the de Pasquale String Quartet, Mr. de Pasquale joined the faculty of The Curtis Institute of Music in 1964.
Ovation Press featured our interview with Mr. de Pasquale over at String Visions.
Check out part 1
and
part 2
to gain insight into the mind and philosophy of this legendary violist.
Stephen Wyrczynski wrote a terrific
article about Joseph de Pasquale
for the Journal of the American Viola Society that describes his career and the extraordinary influence he has had on viola orchestral performance.
Below you will find the complete list of scores edited by Joseph de Pasquale.
Loading Product Listings…