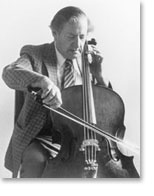 George Neikrug
Mr. Neikrug has given master classes in Germany, Italy, Austria, Australia, and Iceland, Hawaii, Canada and extensively in the United States. He has played solos with major symphonies all over the world. In addition to the cello repertoire, his virtuosity has enabled him to perform some of the most technically demanding works for the violin on the cello. His many performances of the Paganini Violin Concerto in D Major with the Sauret cadenza have amazed audiences and colleagues as well.
"George Neikrug has been, for many years, a respected colleague and musician, as well as a good friend. I regard him as a great artist -- a term not lightly used by a fellow professional. His superb, absolute command of the instrument, the probing depth of his musical perception, his contagious joy in communicating his affection for music; all combine in bringing to life whatever music he plays." - Isaac Stern
Born in New York, George Neikrug was a pupil of the legendary Emanuel Feuermann and is probably the only remaining student who is still concertizing. In 1943, he met the well-known pedagogue D.C. Dounis, whose revolutionary approach to the problems of string playing and teaching influenced him to completely revamp his playing and create the unique style he has retained to this day. This association lasted for a period of fifteen years, and Neikrug felt such a debt to Dounis for all the knowledge and skills he had learned that he resolved to devote his life to teaching at schools, such as Boston University, and giving master classes all over the world.
Since Neikrug's New York debut in 1947, he has held principal positions with the Baltimore, Pittsburgh and Los Angeles Philharmonic Orchestras. He was also principal cellist of the Paramount Pictures Recording Orchestra and the Columbia Recording Orchestra, which recorded the historic series of performances by Igor Stravinsky and Bruno Walter, who called Neikrug a "genuine musician and a real virtuoso of the cello." In 1960, Leopold Stokowski asked Neikrug to perform Bloch's Schelomo with him and the NBC Symphony at Carnegie Hall, with a recording for United Artists to follow. After this performance, Stokowski sent him an autographed photo with the inscription "for George Neikrug's Schelomo -- unforgettable." In 1979, Neikrug performed all six Bach solo suites in one concert at Lincoln Center. In an enthusiastic review of this concert, John Rockwell of The New York Times concluded, "there was a beauty that was almost painful. We wish Mr. Neikrug would play all the violin suites for us."
Mr Neikrug has appeared as a soloist with such conductors as Leonard Bernstein, Wolfgang Sawwilisch, Bruno Walter, Leopold Stokowski and Yehudi Menuhin, who stated, "I was most impressed with his profound and accurate understanding of his instrument, as well as string playing in general. He is a first-rate musician, and I cannot recommend him too highly." His recording of Bloch's Schelomo with Leopold Stokowski and the Symphony of the Air was recently re-released on the EMI label. In addition, Sony has recently released his recording of a duet by Mozart for cello, baritone and orchestra with George London, baritone, and the Columbia Symphony, conducted by Bruno Walter.
Mr. Neikrug maintains a website at
www.neikrug.org
.
Below you will find the complete list of scores edited by George Neikrug.
Loading Product Listings…