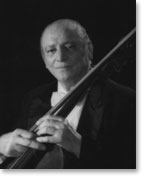 Frank Miller
Noted both as a cellist and conductor, Frank Miller was principal cellist with the Chicago Symphony Orchestra for more than 20 years. He took a year of absence during the 1960-61 season when he served as associate conductor of the Minneapolis Symphony Orchestra. In 1961 he was appointed conductor and music director of the Evanston Symphony Orchestra, a position he held in addition to his activities with the Chicago Symphony and the chamber groups to which he belonged. He was a member of the Chicago Symphony String Quartet.
Mr. Miller attended the Conservatory of Music in his home town of Baltimore, and later entered the Curtis Institute of Music, both times as a scholarship student. After graduating from Curtis he joined the Philadelphia Orchestra, which was directed by Leopold Stokowski, and remained with that ensemble for five years. He was also first cellist with the Minneapolis Symphony for four years under the direction of Eugene Ormandy and Dimitri Mitropoulos. For two of those years, when Mr. Mitropoulos directed the orchestra, Mr. Miller also served as assistant conductor.
Following an audition for Arturo Toscanini, he became principal cellist with the NBC Symphony in New York under Toscanini's direction. He remained with the orchestra for 15 years until Toscanini's last concert.
Before joining the Chicago Symphony in 1959, Mr. Miller was conductor of the Florida Symphony Orchestra in Orlando and was a conductor during the summers for the Minneapolis Pops Orchestra. He also made appearances with the Chicago Symphony on numerous occasions, including subscription concerts conducted by Sir Georg Solti and Claudio Abbado.
Frank Miller's obituary
in the Chicago Tribune revealed how much he meant to the Chicago Symphony and the orchestral community.
Below you will find the complete list of scores edited by Frank Miller.
Loading Product Listings…