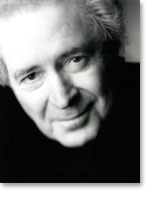 Ronald Leonard
Ronald Leonard is well known as a soloist, chamber musician, and teacher. He has performed in the U.S., Canada, and Europe both as soloist and chamber musician. He is also on the faculty of the Colburn School and is the conductor of the Colburn Chamber Orchestra. Mr. Leonard taught at the Eastman School of Music from 1957 to 1975, and has been a performing faculty member at various summer festivals including the Marrowstone, the Sarasota Music Festival, the Aspen Festival, Round Top Festival, the Johannesen International School of the Arts, the Australian Chamber Music Festival, the Marlboro Music Festival "Summer Fest" in La Jolla, CA., and Musicorda.
Mr. Leonard was the Principal Cellist of the Los Angeles Philharmonic from 1975 until 1999 and has performed many concertos with that orchestra under conductors including Zubin Mehta, Michael Tilson-Thomas, Carlo Maria Giulini, Andre Previn, Simon Rattle and Esa-Pekka Salonen. He has recently made a highly acclaimed CD of Orchestral Excerpts For Cello on Summit Records.
He has appeared as guest artist with the Juilliard, Guarneri, Angeles, Mendelssohn, Borremeo, Chilingarian and American Quartets.
Mr. Leonard is a founding member and former president of the Los Angeles Violoncello Society and has been very active in the American Cello Congress. He conducted the mass cello orchestra at Sixth American Cello Congress at the Clarice Smith Performing Arts Center in June of 2001. In 1996 Mr. Leonard was inducted into the Rhode Island Heritage Hall of Fame, an honor bestowed upon Rhode Islanders who have distinguished themselves, and in October of 2000 he was awarded the "Chevalier du Violoncelle" by the Eva Janzer Memorial Cello Center in celebration of his life long achievements in the world of cello playing and teaching. In May of 2004 Mr. Leonard received the Ramo Music Faculty Award, in recognition of his outstanding contribution to music and education, to the Thornton School of Music and the University of Southern California and to humanity.
In 1996 the Internet Cello Society conducted an
interview with Ronald Leonard
in which he discusses his teachers, his approach to teaching and orchestral performance.
Below you will find the complete list of scores edited by Ronald Leonard.
Loading Product Listings…