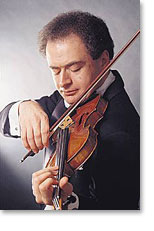 Ilya Kaler
Described by London's Gramophone as a "magician, bewitching our ears", Ilya Kaler is one of the most outstanding personalities of the violin today. Ilya Kaler has many awards to his credit and is the only violinist to have won Gold Medals at the Tchaikovsky (1986), Sibelius (1985) and Paganini (1981) Competitions. The Washington Post lauds him as "a consummate musician, in total control at all times, with a peerless mastery of his violin."
Ilya Kaler was born in Moscow, Russia into a family of musicians. Major teachers at the Moscow Central Music School and the Moscow Conservatory include Zinaida Gilels, Leonid Kogan and Victor Tretyakov. Ilya Kaler later continued his studies under the guidance of Abram Stern. Mr. Kaler has earned rave reviews for solo appearances with distinguished orchestras throughout the world , which include the Leningrad, Moscow and Dresden Philharmonic Orchestras, Montreal Symphony, Danish and Berlin Radio Orchestras, Detroit Symphony, Baltimore Symphony, Seattle Symphony, New Japan Philharmonic and Moscow and Zurich Chamber Orchestras, among others. His solo recitals have taken him throughout the former Soviet Union, United States, East Asia, Europe, Latin America, South Africa and Israel. Mr. Kaler's orchestral career includes guest Concertmaster appearances with San Francisco Symphony, Philadelphia Orchestra and Baltimore Symphony, as well as regular tours with the World Orchestra for Peace under the direction of Valery Gergiev. He was concertmaster of the Rochester Philharmonic Orchestra from 1996-2001.
Kaler's recordings of the Paganini Caprices have been deemed by American Record Guide to be "in a class by themselves" combining "the perfection, passion, and phrase sculpting of Michael Rabin with the energy, excitement, and immediacy of Jascha Heifetz." Other highly acclaimed recordings include Sonatas by Schumann and Brahms, concertos by Paganini, Shostakovich, Tchaikovsky, Brahms, Schumann, Dvorak, Glazunov, as well as Taneev Suite, Bach sonatas and partitas, to name a few.
An active chamber musician, Mr. Kaler has appeared at many major music festivals throughout the US and Europe with many of the most prominent musicians of our time. One of the most sought-after teachers in the world, Ilya Kaler has served as Distinguished Professor at Indiana University School of Music in Bloomington, IN, Eastman School of Music in Rochester, NY, and is currently a Professor of Violin at DePaul University School of Music in Chicago.
He lives in Wilmette, IL with his wife Olga and two young sons Daniel and Ariel. Mr. Kaler performs on a "Sennhauser" Giuseppe Guarnerius del Gesu violin, 1735, on generous loan from the Stradivari Society of Chicago.
Below you will find the complete list of scores edited by Ilya Kaler.
Loading Product Listings…