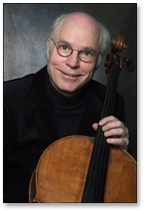 Hans Jørgen Jensen
Hans Jørgen Jensen is currently Professor of Cello at Northwestern University a faculty member of the Meadowmount School of Music and The National Arts Center's Young Artist Program.
Mr. Jensen received a Soloist Diploma from the Royal Academy of Music in Denmark as a student of Asger Lund Christiansen and studied with Leonard Rose and Channing Robbins at the Juilliard School. In addition, he studied with Pierre Fournier in Geneva, Switzerland. At Juilliard he studied chamber music with Robert Mann and Earl Carlyss. From 1979 to 1987 he was Professor of Cello at the School of Music at the University of Houston. He has been a guest professor at the School of Music at the University of Southern California., the Tokyo College of Music and the Musashino Academy of Music in Japan.
Mr. Jensen has performed as a soloist and recitalist in the United States, Canada, Europe, and Japan including solo appearances with the Danish Radio Orchestra, the Basel Symphony Orchestra, the Copenhagen Symphony and the Irish Radio Orchestra. He has given numerous workshops and master classes across the United States, Canada, and Japan including those at the University of Cincinnati, the Royal College of Music in Calgary, the Music Bridge Festival in Calgary, the Glenn Gould Professional School in Toronto, the University of British Columbia, the International Banff Center, Southern Methodist University School of Music, the University of Arizona, the University of Denver, the University of New Mexico, the Texas Music Festival, the University of Colorado, the National Suzuki Convention, the Midwest Orchestra and Band Convention, and Indiana University School of Music.
His former students are members of major orchestras throughout the United States and Canada. His students are first prize winners in the MTNA National Competition, the ASTA National Competition, the Sphinx Competition, the Stulberg International Competition, the Madison Symphony Young Artist Competition, the Corpus Christi International Competition, the Chicago Symphony Young Artist Competition and the Fischoff Chamber Music Competition. They are also prize winners in the WAMSO Young Artist Competition, the Klein International Competition, and the Lutoslavski International Cello Competition.
Mr. Jensen was awarded the Copenhagen Music Critics Prize, the Jacob Gades Prize, the Danish Ministry of Cultural Affairs Grant for Musicians, and was the winner of the Artist International Competition that resulted in three New York Recitals. In 1998 he was named the outstanding teacher of the year at Northwestern University and in 1999, the outstanding studio teacher of the year by Illinois ASTA. In 2001 he was awarded the U.S. Presidential Scholar Teacher Recognition Award by the U.S. Department of Education.
E.C. Shirmer, Boston, publishes his transcription of the Galamian Scale System for cello and Shar Products Company publishes his cello method book, Fun in Thumb Position.
Below you will find the complete list of scores edited by Hans Jørgen Jensen.
Loading Product Listings…