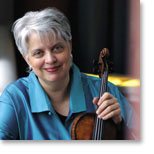 Jorja Fleezanis
Jorja Fleezanis was concertmaster of the Minnesota Orchestra from 1989 to 2009—the longest tenured concertmaster in the orchestra's history and only the second woman in the U.S. to hold the title of concertmaster in a major orchestra when appointed. She also held the post of associate concertmaster with the San Francisco Symphony for eight years and began her professional career at age twenty-three as a member of the Chicago Symphony. In the fall of 2009 she became Professor of Violin and Orchestral Studies at the Jacobs School of Music at Indiana University in order to devote herself full time to teaching and mentoring.
Twentieth-century music is a special passion for Fleezanis. In 1990 the Schubert Club of St. Paul, Minnesota commissioned Brilliant Sky, Infinite Sky by Aaron Jay Kernis, which she premiered in Minnesota and in New York on her debut recital, then recorded for CRI. In 1994, with Edo de Waart and the Minnesota Orchestra, she gave the world premiere of the John Adams Violin Concerto, which she repeated in the summer of 1995 at the Cabrillo Festival. Her premiere of Nicholas Maw's Sonata for Solo Violin, commissioned for her by Minnesota Public radio, was presented on a broadcast of Saint Paul Sunday in January 1998, and in July 1999, she gave the British premiere of the work at the Chester Summer festival. IN 1998, at the Minnesota Orchestra's Viennese Sommerfest, she was one of the soloists in the American premiere of Britten's recently discovered Double Concerto for Violin and Viola. In 2003 she gave the world premiere of John Tavener's Ikon of Eros, commissioned by the Minnesota Orchestra and recorded for Reference Records. With Garrick Ohlsson as her partner she has recorded the Stefan Wolpe Violin Sonata for Koch International and with Basil Reeve recorded James Bolle's Eight Pieces for Violin and Oboe for the Gasparo label. She has also recorded the ten Beethoven Sonatas with the French fortepianist Cyril Huvé on the Cyprés label.
Ms. Fleezanis has appeared as guest concertmaster with Roger Norrington and the London Classical Players, Essa_Pekka Salonen and the Los Angeles Philharmonic, Michael Tilson Thomas and the San Francisco, Edo de Waart and the Sidney (Australia) Symphony and the Hong Kong Philharmonic. She has performed and taught at summer festivals including: Bravo!Colorado, Music at Angel Fire, the International Institute at Round Top (Texas), Music@ Menlo, Madeline Island, the Interlochen Center for the Arts and Music at Salem.
She has been a member of the FOG Trio with Garrick Ohlsson, pianist and Michael Grebanier, cello since 1984 and performs recitals regularly with Karl Paulnack.
Be sure to check out
Fleezanis' extensive interview
with Ovation Press String Visions in which she discusses her performing career, teaching philosophy and her edition of the
first violin part for Don Juan by Richard Strauss
.
Below you will find the complete list of scores edited by Jorja Fleezanis.
Loading Product Listings…