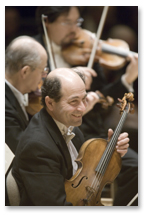 Steven Ansell
Steven Ansell joined the Boston Symphony Orchestra as principal viola in September 1996, occupying the Charles S. Dana chair, having already appeared with the BSO in Symphony Hall as guest principal viola. A native of Seattle, he also remains a member of the acclaimed Muir String Quartet, which he co-founded in 1979, and with which he has toured extensively throughout the world. A graduate of the Curtis Institute of Music, where he studied with Michael Tree and Karen Tuttle, Mr. Ansell was named professor of viola at the University of Houston at twenty-one and became assistant principal viola of the Pittsburgh Symphony Orchestra under André Previn at twenty-three. As a recording artist he has received two Grand Prix du Disque awards and a Gramophone magazine award for Best Chamber Music Recording of the Year. He has appeared on PBS's "In Performance at the White House," has participated in the Tanglewood, Marlboro, Schleswig-Holstein, Newport, Blossom, Spoleto, and Snowbird music festivals, and premiered Ezra Laderman's Concerto for Viola and Orchestra with the Berkshires Symphony Orchestra. Mr. Ansell teaches at the Boston University College of Fine Arts. As principal viola of the Boston Symphony Orchestra, he is also a member of the Boston Symphony Chamber Players. His solo appearances with the Boston Symphony Orchestra have included performances of Mozart's Sinfonia concertante for violin and viola, Bruch's Concerto for Viola, Clarinet and Orchestra, Strauss's Don Quixote, and Berlioz's Harold in Italy, which he has previously performed with the BSO under the direction of both Emmanuel Krivine and James Levine.
Watch an
interview with Steven Ansell
regarding his performance with the Boston Symphony Orchestra in Berlioz's
Harold in Italy
.
Below you will find the complete list of scores edited by Steven Ansell.
Loading Product Listings…