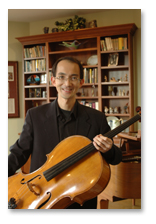 Ka-Wai Yu
Originally from Hong Kong, Dr. Ka-Wai Yu is Assistant Professor of Music at Dixie State University, where he teaches cello and string chamber music. He previously taught at Eastern Illinois University and Indiana Wesleyan University. Committed to bring music education to the community, Dr. Yu has performed, given master classes, taught workshops, served as adjudicator, and guest-conducted regularly at various high schools, youth orchestras, music camps and string festivals in the Southwest and Midwest. Dr. Yu serves as President-Elect of the Utah American String Teachers Association, Co-Director of the Castle Rock Music Camp, President of the Cello Society of Southern Utah, and Director of the DSU Cello Festival that he founded in 2016. He has given presentations in the Dixie Forum, St. George Arts Summit, as well as in national, regional and local music conferences.
Currently the Principal Cellist of Southwest Symphony Orchestra, Dr. Yu has performed at major concert halls in Canada, China, Japan, Singapore, South Korea, Taiwan, and the United States. He is vivid as a chamber musician, and has been a member of the Zion Trio and the period-instrument ensemble Cosmopolitan Baroque. He has appeared in the Aspen Music Festival, Boston Early Music Festival, Orford Arts Center, Toronto Summer Music Academy, Vancouver Early Music Festival, among others. His recent solo performances include concerto appearances with the Dixie State Symphony Orchestra, Chamber Orchestra Kremlin, Jacksonville Symphony Orchestra Illinois, Saint Mary's University of Minnesota Chamber Orchestra, and Hong Kong Chamber Orchestra. His performances have been broadcast on RTHK and WILL-FM. His transcription of Robert Schumann's Cello Concerto for cello and string quartet has been published by A-R Editions, Inc.
Dr. Yu obtained his Doctor of Musical Arts degree from the University of Illinois, Urbana-Champaign, where he studied with cellist Brandon Vamos of the Grammy-winning Pacifica Quartet. He also holds a Master of Music in Cello Performance from the Indiana University Jacobs School of Music and a Bachelor of Arts in Music with first-class honors from the Chinese University of Hong Kong. His other major mentors have included conductors Maurice Peress and Angela Tam, cellists Helga Winold, Csaba Onczay, David Starkweather and Ming-Yuen Cheung, singers Raymond Fu and Chiu-May Wong, and viola da gambist Wendy Gillespie. He has also studied chamber music with members of the American String Quartet, Tokyo String Quartet, Pacifica Quartet and Parker Quartet.
Exclusive Sheet Music from Ovation Press edited by Ka-Wai Yu
Loading Product Listings…