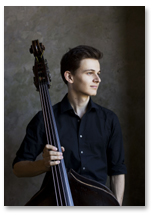 Dominik Wagner
As scholarship holder of the Anne-Sophie Mutter foundation and prize winner of the ECHO Classic award, the double bassist Dominik Wagner is on the best way to present his instrument from a new perspective on an international basis.
He won prizes at almost all double bass competitions, such as the renowned ARD Music Competition and the Eurovision Young Musicians Competition. In the latter he represented Austria in the finals, where he played Serge Koussevitzky's double bass concerto with the WDR Symphony Orchestra. The performance was broadcasted live throughout Europe on television.
As a soloist Dominik also played with Orchestras such as the BR-Symphony Orchestra, the Munich Chamber Orchestra, the German Chamberphilharmonic Orchestra Bremen, the Slowenian Philharmonic Orchestra and the Südwestdeutsches Kammerorchester Pforzheim. Consequently, Dominik played in many renowned concert halls such as Musikverein Wien, Konzerthaus Wien, Konzerthaus Berlin, Herkulessaal München and the Glocke in Bremen.
Recently, the double bassist was also very successful in the United States. He won the International Bradetich Competition, which, amongst other things, was rewarded with the opportunity to record a CD and play a recital in the Carnegie Hall.
Dominik also works closely with contemporary composers to increase the repertoire for the double bass. He premiered several double bass concertos as well as pieces for double bass solo and chamber music. In an upcoming concert, the young double bass player will perform the premier of a double bass concerto composed by Georg Breinschmid with the Wiener Kammerorchester.
Besides his activities as a soloist, Dominik also shows great passion in playing chamber music. Together with the clarinet player Vera Karner, he performed in many concerts and competitions with the instrumentation clarinet, double bass and piano. After competing successfully, they were awarded the Fanny Mendelssohn Förderpreis, which lead to the production of their first CD "Gassenhauer Gassenbauer" with the renowned Label Berlin Classics. Additionally, as a part of to the Great Talent Program of the Wiener Konzerthaus, Dominik got the opportunity to perform together with great musicians like Elisabeth Leonskaja and Gerhard Schulz.
To show the potential of using unusual instrumentations, he recently played a concert in the constellation violin, double bass and percussion together with Emmanuel Tjeknavorian and Christoph Sietzen.
Dominik Emanuel Wagner was born in Vienna in 1997 where he started his musical education at the age of 5, at first as a cellist, later as a double bassist. In the year 2009 he started studying at the University of Music and Performing Arts Vienna with Josef Niederhammer and Werner Fleischmann. Currently he is studying at the University of Music in Nürnberg with Dorin Marc.
Exclusive Sheet Music from Ovation Press composed by Dominik Wagner
Loading Product Listings…