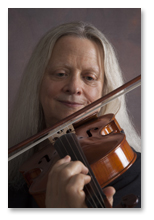 Rhona Reagen
Rhona Reagen has been a Suzuki method violin and viola instructor for over 35 years. She received her Bachelors and Masters degrees with honor and distinction from DePaul University.
Rhona has had a private studio in Skokie, Illinois since 1980. She is also on faculty at Midwest Young Artists in Highwood, Illinois where she conducts the Reading Orchestra, coaches chamber music, is part of the audition committee, and is the director of the Young Strings Summer Chamber Music Camp. She has served on the board of directors of Midwest Young Artists since 1993 and is also a member of the executive committee. She was also recently elected to the Illinois ASTA Board of Directors and is working on creating outreach activities for local studio teachers. Rhona serves as an adjudicator for local solo festivals and district honors orchestra auditions. She also teaches private lessons and does sectional coaching at Highland Park High School in Highland Park, Illinois.
In 2009, Rhona was in the first class of teachers in the United States to be certified to teach the Mark O Connor String Method. She has taken all the teacher training courses offered to date and continues to explore the possibilities of including Mr. O'Connor's music into her pedagogy. In 2016 Rhona also attended training sessions on Paul Rolland technique as well as advanced O'Connor pedagogy.
In 2008 Rhona was named IL-ASTA Studio Teacher of the Year. She is very grateful to her colleagues for this prestigious honor.
Rhona is a former faculty member of Elmhurst College and National Louis University. She has also served as music therapist in many Chicago area facilities working with children and adults with various developmental disabilities.
Exclusive Sheet Music from Ovation Press edited by Rhona Reagen
Loading Product Listings…