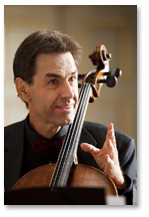 Rudolf Leopold
Rudolf Leopold is one of the most renowned Austrian cellists. Born 1954 in Vienna he studied cello at the University of Music with Richard Krotschak and Tobias Kühne, besides piano and composition. He started his career as a member of the Franz Schubert Quartet and soon became the solo cellist of Nikolaus Harnoncourt's "Concentus Musicus". In 1981 he founded the Vienna String Sextet and toured through Europe, the USA and Japan for 23 years. With this ensemble he made many recordings for EMI and Pan Classics and wrote several arrangements. Since 2007 he has had his own baroque ensemble "Il Concerto Viennese".
As a soloist he has played most of the standard repertoire (in 2008 he performed the Dvořák Concerto with the Berliner Philharmonie), but also some rarities (like Dohnányi, Pfitzner and Enescu) and played some premieres of contemporary pieces with orchestra. With his wife, the pianist Teresa Turner–Jones, he has played many recitals and trio concerts in a lot of countries.
Rudolf Leopold taught chamber music at the University of Music in Vienna from 1983 to 1990. Since then he has served as distinguished professor of Violoncello at the University of Music in Graz.
Below you will find the complete list of scores edited by Rudolf Leopold.
Loading Product Listings…