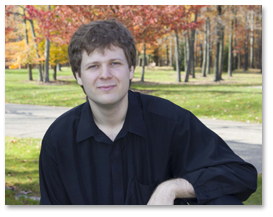 Fedor Amosov
Fedor Amosov is an exceptionally talented young Russian cellist who is fast becoming known worldwide. Born on March 27, 1988 into a musical family in Moscow, he started playing the cello at the age of six and was accepted as a student at Moscow Conservatory's Central Music College. His first public performance took place when he was seven years old. Since then he has been performing regularly as a soloist and recitalist in Russia, throughout Europe, Japan, the United States, and elsewhere. He has appeared as a soloist with symphony orchestras and in many major halls in Russia, Asia, Europe, and the United States.
Early on his talent drew the attention of many masters of the cello. This provided Fedor the extremely rare opportunity to study with world renowned master, Mstislav Rostropovich, Suren Bagratuni, Stephen Geber, Natalia Gutman, Lev Evgrafov, Dmitri Yablonsky, and David Geringas. Working with these exceptional instrumentalists led to Fedor's rapid growth as a top level musician, resulting in spectacular success at many of the most prestigious international competitions.
Fedor's hard work was apparent when he was awarded the First Prize in the Concertino Prague 38th International Competition, with a Special Prize for the best performance of Sonata No.3 by Martin?; in the Fifth International Youth Tchaikovsky Competition in Japan (Kurashiki), the All-Russian Cello Competition "The Magic Bow" (Grand Prix, 2003); and the International Knushevitsky Cello Competition (2007). In the United States he triumphed by taking First Prize at the WAMSO and Corpus Christi International Competitions, performing concerts with the Corpus Christi and Minnesota orchestras (2009) in addition to several recitals.
Fedor's rapid growth and critical acclaim, along with his many competition successes, lead to his being invited to perform several recitals. He is a regular participant in music festivals including the Colmar Music Festival, the Monrepos Nights Festival, and the Qabala International festival. Continuing inquiries add to a number of additional opportunities he is exploring during the 2013-16 seasons.
His first CD was released on the Naxos label in 2010 with the program of "Six Sonatas of Luigi Boccherini for Cello and Basso Continuo" arranged for cello and piano by Alfredo Piatti. The CD received fine reviews.... "I started listening fully expecting to disapprove, but almost immediately I was won over by the sheer musicianship of both the arrangements and the performances. I had not heard of Fedor Amosov before. He studied with an array of fellow-Russian cellists, including Rostropovich, and has won several competitions. He plays with great panache, delicacy when that is called for, and has an enviable range of tone colors. Above all he is responsive to the sheer charm and melodious qualities of the music". John Sheppard, MusicWeb International
Fedor released his CD, "Russian Cello", on the Bel Air Music label with the music of Alexander Glazunov and Ivan Sokolov and he released his own arrangement of Jean-Baptiste Bréval's "Six Sonatas op.12" for Cello and Piano on the Centaur label. His additional arrangements and compositions include music for solo piano, solo cello, trios, and cello/flute/violin/viola with piano.
Fedor received his Performance Diploma from Michigan State University in 2010 and his MM from the Cleveland Institute of Music in 2012, where he is currently working on an Artist Diploma. He is published in the US by Wiltshire Music Company and Ovation Press. Fedor resides in Cleveland, Ohio and is currently working on an advanced degree at the Cleveland Institute of Music through 2015.
Below you will find the complete list of scores edited by Fedor Amosov.
Loading Product Listings…