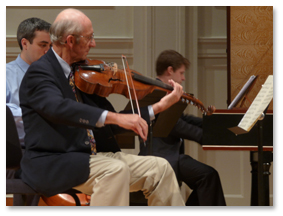 Myron Rosenblum
Myron Rosenblum, violist and viola d'amore player was born in New York City and has degrees from Queens College and New York University. He studied viola with Lillian Fuchs, Walter Trampler and William Primrose. He has performed on both viola and viola d'amore with the New York City Opera, New York Grand Opera, American Opera Society, Brattleboro Music Festival, Bethlehem Bach Festival, Little Orchestra Society, Boston Pops Tour Orchestra, Richmond Symphony, the NY Philharmonic and others. He has edited music for viola, viola d'amore, and chamber works by Christoph Graupner, Alessandro Rolla, Ignatz Pleyel, Richard Lane, Franz Schuchbauer and has written articles for many journals.
He had a Fulbright Grant to go to Vienna, Austria to study ahd research the viola d'amore, where he studied with Karl Stumpf, violist in the Vienna Philharmonic. He is the author of "Viola d'amore" in the New Grove Dictionary of Music and Musicians. He was the founder and first president of the American Viola Society and is the co-founder and Co-Director of the Viola d'amore Society of America.

Below you will find the complete list of scores edited by Myron Rosenblum.


Loading Product Listings…