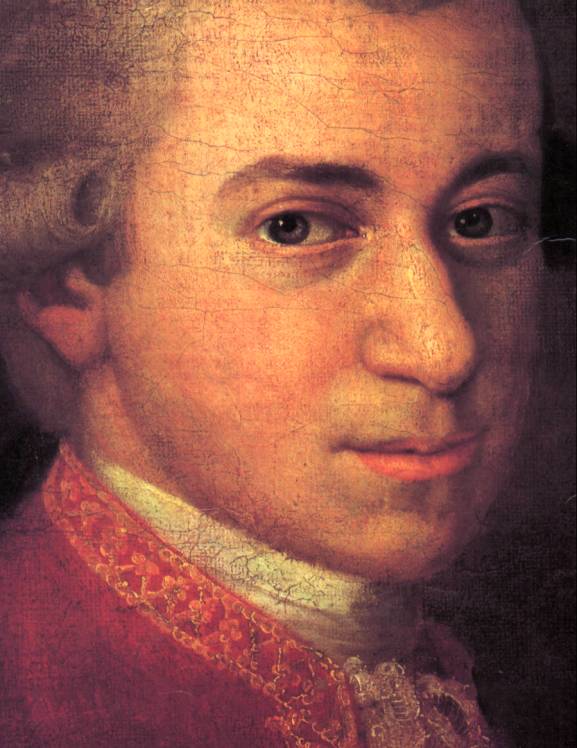 Wolfgang Amadeus Mozart
Wolfgang Amadeus Mozart was a prolific and influential composer, one of the main pillars of the Classical era. He displayed a genius mind and talent from very early childhood, and is often paralleled in modern times with the idea of the child prodgy. Having composed hundreds of works, many of them famously known and solidly embedded in the classical repertoire, Mozart is one of the most enduringly popular composers of all times.
Mozart's music, like Haydn's, stands as an archetype of the Classical style. At the time he began composing, European music was dominated by the style galant, a reaction against the highly evolved intricacy of the Baroque. Progressively, and in large part at the hands of Mozart himself, the contrapuntal complexities of the late Baroque emerged once more, moderated and disciplined by new forms, and adapted to a new aesthetic and social milieu. He was an incredibly versatile composer and engaged in virtually every major genre, most significantly: opera, symphony, chamber music, piano sonata, and solo concerto.
Throughout his life, Mozart composed over 600 works, many which have been acknowledged as pinnacles of symphonic, concertante, chamber, operatic, and choral music. He also had a gift for learning voraciously from others, absorbing and adapting valuable features of music from different composers and synthesizing them with his own musical personality. As such, he developed a varied and complex style that matured with both the light & graceful and the dark & passionate.
At Ovation Press, we are excited to bring you a wide range of Mozart's works transcribed and arranged for string solo and string ensemble!
Exclusive Mozart Scores for Strings from Ovation Press
Loading Product Listings…