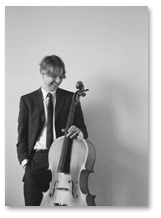 Philip Boulanger
Philip Boulanger maintains an active and varied career as a cellist. Philip is currently the cellist of the Haven String Quartet and serves as Resident Cellist at Music Haven, a non-profit music program in New Haven, CT that provides free private and group lessons to over 75 students in some of New Haven's most challenging neighborhoods. In it's 8th year, Music Haven has been ranked one of the Top 50 After School Arts Programs in the country for three years in a row by the Presidential Committee on the Arts and Humanities.
Prior to joining Music Haven, Philip served as a Teaching Artist for the Chicago Symphony Orchestra, designing new and innovative curriculum for a variety of music education and outreach programs across Chicago Public Schools. Philip worked closely with Yo-Yo Ma on the Symphony's Citizen Musician Initiative, including a performance together of Schubert's Cello Quintet, and joined the CSO cello section for their MusicNOW series.
Philip received his Masters in Performance and Pedagogy from Northwestern University and served as teaching assistant to Hans Jensen at the Meadowmount School of Music. While at Northwestern, Philip also held the position of Assistant Principal Cellist of the Civic Orchestra of Chicago. Philip received his Bachelors of Music from Boston University, and an Artist Certificate from the Krakow Academy of Music in Poland.

Below you will find the complete list of scores edited by Philip Boulanger.

Loading Product Listings…