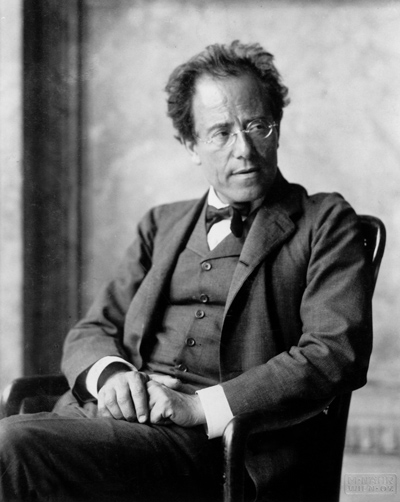 Gustav Mahler
Mahler was a late-Romantic Austrian composer and one of the leading conductors of his generation.
Born in the village of Kalischt, Bohemia he acted as a bridge between the 19th century Austro-German tradition and the modernism of the early 20th century.
Gustav Mahler began from the German tradition of music, which was rooted in the music of Johann Sebastian Bach and the 'Vienna School' of Haydn, Mozart, Beethoven and Schubert, and incorporated the Romantic generation of composers, such as Schumann and Mendelssohn. However, the decisive influence on his work was Richard Wagner, an influence apparent in the scale of his orchestration.
Mahler combined the ideas of Romanticism — including having titles for symphonies, or combinations of movements (see Program music), and the use of song melodies in symphonic works — with the huge orchestral resources which the development of symphony orchestras had made possible. The result was that he extended, and finally broke, the understanding of symphonic form, as he searched for ways to expand his musical universe. He stated that a symphony should be an entire world. Mahler, as a result, met with difficulties in presenting his works, and would continually revise the details of orchestration until he was satisfied with the effect.
Today Mahler remains one of the most frequently performed and recorded of all composers.
Exclusive Mahler Scores for strings From Ovation Press
Loading Product Listings…