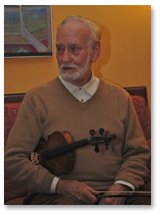 Gerhard Roither
Gerhard Roither was born in Berlin, in 1932. He studied violin with M. L. König von Kleist and theory and composition with Gotthold Frotscher. Mr. Roither has been a member of the Deutsches Symphonie Orchester Berlin (formerly the RIAS- and later Radio-Symphony Orchestra Berlin) for 42 years. Principal conductors of the DSO have included Ferenc Fricsay, Lorin Maazel, Ricardo Chailly, and Vladimir Ashkenazy. Gerhard Roither was a member of the Fournes String Quartet from 1959 until 1970. In 1972, during a tour with the Berlin Philharmonic, the 12 Cellists of the Be'rlin Philharmonic asked Mr. Roither to compose a few short pieces for them to use as encores. This inspired Mr. Roither to arrange the "Seven Spirituals" for The Berlin Philharmonic Cello Ensemble. The Swedish "Vaermland-Song" was arranged for a concert given by the 12 Cellists in Stockholm for the Swedish king Carl XVI Gustaf of Sweden and Queen Silvia of Sweden who was born in Germany.
Compositions by Gerhard Roither:

Two string quartets (1961)
Passacaglia or orgue (1968)
Introduktion and canon for solo violin and orchestra (1963)
Quintet for Winds "Wolkenspiele" (1965)

Orchestrations:

Fr. Schubert: Sonata for Arpeggione, for string orchestra
B. Martinu: Quartre études for Violoncello and chamber orchestra
B. Martinu: Variations on a Slovakian traditional for chamber orchestra
G. Bottesini: Concertos for one and two double basses for chamber orchestra

Cadenzas for various instruments:

Violin:

Jos. Haydn: Concerto Nr. 1 in C major
W.A. Mozart: Concerto Nr. 2 in D Major
alias W.A. Mozart: Adelaide in D Major
alias L. Boccherini Concerto in D Major

Viola:

C. Stamitz: Concerto in D Major, Op. 1

Cello:

Jos. Haydn: Concerto in D Major
Jos. Haydn: Concerto in C Major
C.P.E. Bach: Concerto in A Major
R. Volkmann: op. 33 a-minor

Two cellos:
Violin and cello:

J.C. Bach: Sinfonia Concertante in A Major

Arrangements for string quartet (mostly for educational purposes):

J.S. Bach: Adagio and Fugue after the Solo-Sonata in C Major- from "das Wohltemperierte Klavier":

Part 1: F# minor (transposed to G minor)
Part 2: E-flat minor (transposed to E minor)
Part 2: D minor
Part 2: B-flat minor (transposed to C minor)with different instruments

A. Schoenberg: Sechs kleine Kavierstücke, Op. 19
A. Webern: Variations op. 27/3
Below you will find the complete list of scores edited by Gerhard Roither.

Loading Product Listings…