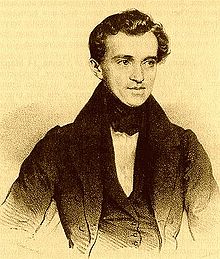 Johann Strauss Sr.
Johann Strauss I (Sr.) was an Austrian Romantic composer famous for his waltzes. He was the father of Johann Strauss II (Jr.) who became known as the "Waltz King."
Strauss first began taking lessons in the violin and viola while fulfilling an apprenticeship as a bookbinder. Though he successfully completed his apprenticeship, he had studied music with Johann Polischansky and managed to secure a place in a local orchestra. He eventually left this orchestra in order to join a popular string quartet known as the Lanner Quartet formed by his would-be rival Joseph Lanner and the Drahanek brothers, Karl and Johann. This string quartet playing Viennese waltzes and rustic German dances expanded into a small string orchestra in 1824. Strauss took on the role of deputy conductor of the orchestra, assisting Lanner in commissions after it became popular, and was eventually placed in command of a second smaller orchestra which was formed as a result of the success of the parent orchestra.
Strauss decided to form his own band in 1825, writing primarily dance music, and in doing so became a rival to Joseph Lanner. However, there were no hostile consequences, and in fact the musical competition was significant in moving the development of the waltz and other dance music foward in Vienna. To this, Strauss and Lanner are often accredited with poularizing the Viennese waltz (though Strauss typically receives more of the credit) and paving the way for future composers, such as Strauss Jr. whose work with the form would earn him the title of the "Waltz King."
Strauss Sr. became one of the best-known and well loved dance composers in Vienna. His most famous piece is arguably the Radetzky March , with the Lorelei Rheinklänge, Op. 154 ranking at the top of his most famous waltzes.
Exclusive Johann Strauss Sr. Scores for Strings from Ovation Press
Loading Product Listings…