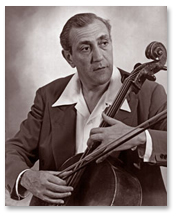 Gregor Piatigorsky
Gregor Piatigorsky was a Russian-born American cellist who has been described as "the greatest string player of all time."
Piatigorsky first visited the United States in 1929, but he did not make America his permanent home until after the Second World War had started. Known as an extraordinarily dramatic player, his orientation as a performer was to convey the maximum expression embodied in a piece. With his extensive personal and professional contact with many of the great composers of his time, he was able to infuse his performance with great authenticity and communicate it to his audiences. Among the many composers who wrote works for him stands Sergei Prokofiev, Paul Hindemith, Mario Castelnuovo-Tedesco, Igor Stravinsky and others.
In honor of the legendary cellist, an annual international cello festival is held, bringing together cello masters and aspiring young students for a unique celebration of the instrument, the music composed for it, and the musicians who play it. To learn more about this event, see the
Piatigorsky Festival website
.
At
Ovation Press
, we offer the original arrangement of Piatigorsky's
Variations on a Paganini Theme
as published by the great master. In addition, we have an
Ovation Press
original version with the piano part arranged for string orchestra.
Gregor Piatigorsky Scores for Strings from Ovation Press
Loading Product Listings…