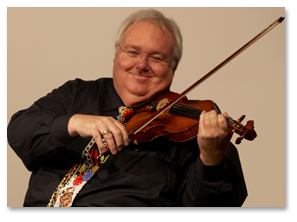 Steven Rochen
Steven Rochen has based his career on teaching students to perform with confidence. He has served for more than two decades on the faculties of Third Street Music School, Trinity School and Meadowmount School of Music.
In 2008 he wrote a piece for solo violin or viola based on the irrational number, Pi. The music has been performed on serious recitals as well as in mathematics symposia and conferences and has been featured in festivals surrounding Pi Day, March 14th. Performances of A Piece of Pi have been mentioned in articles published worldwide by Agence France-Presse and other media services.
He studied violin with Sally Thomas and Fredell Lack and studied conducting with Igor Buketoff. In 2008 he was appointed the Paul-Philippe Bolduc Fellow for that year, with research trips to Berlin, Vienna and Prague. He has enjoyed working with the indie band The Baskervilles, on their latest CD and also performs with his band, The New Lost Faculty Ramblers. He maintains a website at
www.stevenrochen.com
.
Below you will find the complete list of scores composed by Steven Rochen.

Loading Product Listings…