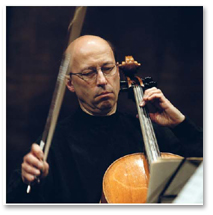 Roland Pidoux

An eminent figure on the French cello scene, Roland Pidoux studied at the CNSMD in Paris. Alongside his career as a soloist, he is an enthusiastic exponent of chamber music, which he has practiced with such exceptional musicians as Isaac Stern and Mstislav Rostropovich.
He was principal cellist of the Orchestre National de France before being appointed professor at the CNSMD in Paris, and continues his chamber career in a piano trio with Jean-Claude Pennetier and Régis Pasquier. Since 1988 he has been artistic director of the Rencontres de Violoncelles de Bélaye in the Lot départment.
Roland Pidoux has made numerous arrangements for cello ensemble, many of which have been recorded by
Les Violoncelles Français
on their debut album
Méditations
.
Roland Pidoux fait ses études au Conservatoire National Supérieur de Musique de Paris où il obtient ses diplômes en 1965 et 1966.
Sous l'influence de Jean Hubeau et Joseph Calvet, il se passionne pour la musique de chambre, parallèlement à sa carrière de concertiste. En 1968, il fonde avec Jean-Pierre Wallez, l'Ensemble Instrumental de France qui deviendra plus tard l'Ensemble Orchestral de Paris puis rejoint le Quatuor Via Nova pour une période de sept ans avant de retrouver Régis et Bruno Pasquier au sein du Trio Pasquier.
En 1969, il est engagé à l'Orchestre de l'Opéra de Paris, puis à l'Orchestre National de France comme violoncelle solo de 1978 à 1987.
Au cours de ces années, son amour de la musique de chambre le conduit à jouer aux côtés d'autres musiciens exceptionnels tels que Pierre Fournier, Mstislav Rostropovitch, Isaac Stern, Jean-Pierre Rampal…
Il retrouve son ami de longue date, le pianiste Jean-Claude Pennetier pour constituer un trio en compagnie d'un de ses partenaires favoris, le violoniste Régis Pasquier. Cette formation obtient un vif succès auprès du public en France et à l'Etranger et notamment aux Etats-Unis où ils sont régulièrement engagés.
Roland Pidoux, à l'instar de son maître André Navarra dont il possède maintenant le violoncelle Gagliano, enseigne depuis 1988 au Conservatoire National Supérieur de Musique de Paris.
Il est directeur artistique des Rencontres de Violoncelle de Bélaye (Lot).
Il a enregistré de nombreux disques de musique de chambre dont l'intégrale des sonates et variations pour violoncelle et piano de Beethoven en compagnie de Jean-Claude Pennetier et les deux trios de Rachmaninov.
Sous l'impulsion de son fils Raphaël, il anime l'octuor de violoncelles «Les Violoncelles Français», composé de brillantes personnalités telles que Emmanuelle Bertrand, Eric- Maria Couturier, Emmanuel Gaugué, Xavier Phillips, Raphaël Pidoux, Nadine Pierre, François Salque. Le premier enregistrement de cet ensemble vient de paraître chez MIRARE sous le titre
Méditations
.
Below you will find the complete list of scores edited by Roland Pidoux.
Loading Product Listings…