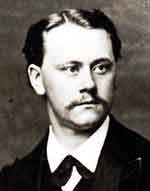 Henri Duparc
Henri Duparc was a French composer of the late Romantic period. He displayed a talent, intelligence, and interest for a variety of fields. He took piano lessons (from César Franck) concurrently with his law studies. Becoming one of Franck's earliest composition pupils, Duparc began experimenting with writing music, though he destroyed much of his early body of works.
In 1868, Henri Duparc's
Five Mélodies
, for voice and piano, were published, marking his first major surviving song collection. The following year, he received his first substantial exposure to Wagner's music when he traveled to Munich for several performances. Through Liszt, Duparc met Wagner who would become a noticeable influence on his music.
Duparc's career and legacy may have been greater, but unfortunately he was afflicted by a mental illness called "neurasthenia" which led to his departure from composition at age 37. One of his works survives here at
Ovation Press
, preserved in a viola arrangement by Donald McInnes.
Exclusive Duparc Scores for Strings from Ovation Press
Loading Product Listings…