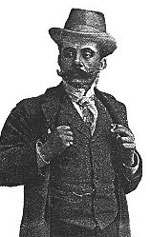 Vittorio Monti
Vittorio Monti was an Italian composer, violinist, and conductor. Although a forgotten name amongst contemporary musicians, he composed one of the most popular gypsy works that is still performed widely by nearly every gypsy orchestra in the world: Csárdás.
Monti was born in Naples and studied violin and composition there at the Conservatorio di San Pietro a Majella. Around 1900 he became the conductor for the Lamoureux Orchestra in Paris, where he wrote several ballets and operettas. Csárdás was written a few years after, around 1904
Csárdás remains his only famous work in the repertoire today, though it is rarely heard on the cello. Of course, that is what makes our exclusive cello arrangement of Csárdás by Valter Dešpalj so attractive!
Exclusive Monti Scores for Strings from Ovation Press
Loading Product Listings…