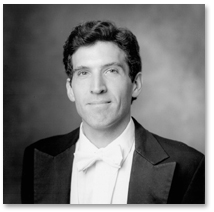 Jonathan Pegis
Jonathan Pegis joined the Chicago Symphony in the fall of 1986; prior to that he was a member of the Rochester Philharmonic for 2 years. Since his arrival in Chicago Mr. Pegis has performed frequently in chamber music and is active in the Chicago Symphony chamber music series. He is a regular participant in the Northwestern University Winter Chamber Music Festival and has performed with such artists as Lynn Harrell and Pinchas Zukerman. He has also appeared as soloist with the Highland Park Strings, the Texas Chamber Orchestra, and the Signature Symphony in Tulsa, Oklahoma. In 1993 Mr. Pegis joined the faculty at Northwestern where he teaches Orchestral Studies.
Originally from Rochester, New York, Jonathan Pegis began his studies at the Eastman School of Music Preparatory Department. His first teacher was Alan Harris; he has also studied with Lee Fiser, Paul Katz, and Lynn Harrell. He completed his undergraduate studies at the Cincinnati College-Conservatory of Music. While there, he joined the LaSalle Quartet and violist Donald McInnes on chamber music tours of the US and Germany. Their 1982 recording of Schoenberg's "Verklaerte Nacht" received Japan's Tokyo Record Academy prize. Mr. Pegis returned to Rochester in 1984 to become a member of the Rochester Philharmonic and to attend Eastman, where he earned a Master's degree and a Performer's Certificate.
Jonathan Pegis lives in Skokie, Illinois with his wife soprano Dawn Pegis. When not performing music their hobbies include sailing, crafts, and endless home improvement projects.
Below you will find the complete list of scores edited by Jonathan Pegis.
Loading Product Listings…