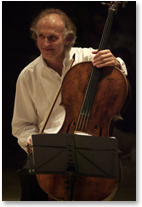 Valter Dešpalj
Valter Dešpalj (Zadar, Croatia, 1947) is professor of cello at music academies in Zagreb and Liechtenstein. A graduate from the Juilliard School (where he studied cello under Leonard Rose and chamber music with Felix Galimir and Juilliard Quartet), he also took master classes with P. Casals, P. Fournier and A. Navarra, and did two years of postgraduate study with G. Kozolupova at the Moscow Conservatory.
Dešpalj has performed all over the world, including performances at festivals in Gstaad, Lockenhaus, Kuhmo and Dubrovnik, also in some of the most prestigious concert halls, such as Carnegie Hall, Royal Festival Hall in London, Sydney Opera House, Amsterdam′s Concertgebouw, Moscow Conservatory Hall etc. He was soloist with orchestras including Berlin Symphony Orchestra, Dresden Philharmonic, Warsaw Philharmonic, Rotterdam Philharmonic, Dutch Radio Orchestra, Washington National Symphony, Sydney Symphony, Melbourne Symphony and others, under baton of eminent conductors such as Roberto Benzi, Sergiu Comissiona, James Conlon, Vernon Handley, Gűnther Herbig, Hiroyuki Iwaki, Andrzej Markowski, David Zinman and others. Among his chamber music partners were Gidon Kremer, Yo-Yo Ma, Heinrich Schiff, Philippe Entremont, Yuri Bashmet, Tabea Zimmerman, Irena Grafenauer, Dmitry Sitkovetsky and Alexandre Rabinovitch.
Besides teaching in Zagreb and Liechtenstein, he has also been a guest professor at the conservatories in The Hague, Amsterdam, Copenhagen and Graz (University of Music), editor of cello music with major music publishers, and member of judging panels at the most prestigious international competitions including Tchaikovsky (Moscow), Bach (Leipzig), Lutoslawski (Warsaw) and ARD (Munich) competitions.
Be sure to read the interview with Valter Dešpalj, as well as a feature article on his arrangement of David Popper's Polonaise de Concert on our blog Ovation Press String Visions! As the source of numerous fantastic arrangements for cello and guitar, in a separate interview Dešpalj also shared his insights into this unique instrumental combination and the repertoire he has published with Ovation Press.
Exclusive Sheet Music from Ovation Press edited by Valter Dešpalj
Loading Product Listings…