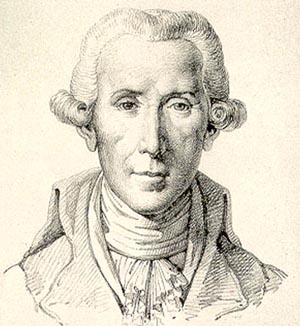 Luigi Boccherini
A little-known, but impressive Italian classical era composer and cellist whose musical style matured somewhat apart from the epicenters of the classical tradition in Europe. Retaining a courtly and galante style as he matured, Boccherini admired Haydn greatly, and was strongly influenced by Haydn's style. This influence was so obvious that music lovers of the day fondly proclaimed "Boccherini is the wife of Haydn."

As such, many of Boccherini's chamber works followed models established by Josef Haydn. However, a true advocate of his instrument, Boccherini is often credited with improving upon Haydn's model of the string quartet by increasing the role of the cello, bringing it into the spotlight as a prominent member of its musical family.

During his long career, he wrote an impressive number of large-scale chamber works. His output includes 91 string quartets (Haydn wrote 83), 30 symphonies, an astonishing 137 quintets for various combinations of strings, as well as multitudes of trios, keyboard quintets, sextets, sonatas and other works. His virtuosity on the cello shows perhaps most clearly in his excellent concertos that are too little known today.


Exclusive Boccherini Scores for String from Ovation Press
Loading Product Listings…