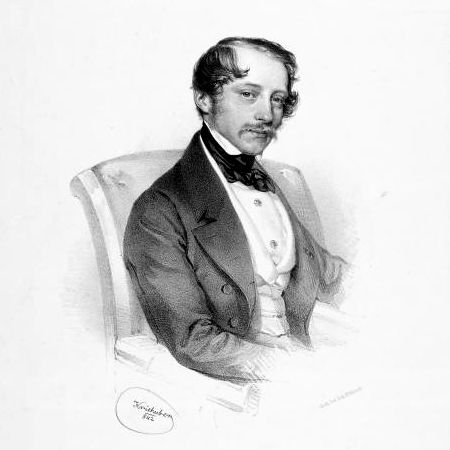 Otto Nicolai
Carl Otto Ehrenfried Nicolai has come to be viewed by many as a one-work composer, best known for his operatic version of Shakespeare's comedy The Merry Wives of Windsor (Die lustigen Weiber von Windsor). Yet, Nicolai also composed a variety of other works: a total of five operas, as well as a number of lieder and works for orchestra, chorus, ensemble, and solo instruments.
Nicolai, a child prodigy, was born in Königsberg, Prussia. He ran away from home at a young age and secured himself as a student of Carl Friedrich Zelter in Berlin. After initial successes in Germany, including his First Symphony (1831) and public concerts, he became musician to the Prussian Embassy in Rome and would later establish himself as a major figure in the concert life of Vienna. He was offered the position of Kapellmeister at the Berlin Cathedral, previously held by Felix Mendelssohn, in 1844.
It is quite possible that Otto Nicolai would have risen to become a much more prominent composer had it not been for his premature death. On 11 May 1849, merely two months after the premiere of his most famous work The Merry Wives of Windsor, and only two days after his appointment as Hofkapellmeister at the Berlin Staatsoper, he collapsed and died from a stroke. On the very same day of his death, he was elected a member of the Royal Prussian Academy of Arts.
Being Nicolai's most famous work, Ovation Press would be amiss not to carry an arrangement from The Merry Wives of Windsor. Check out our arrangement of the Overture for violin below.
Exclusive Nicolai Scores for Strings from Ovation Press
Loading Product Listings…