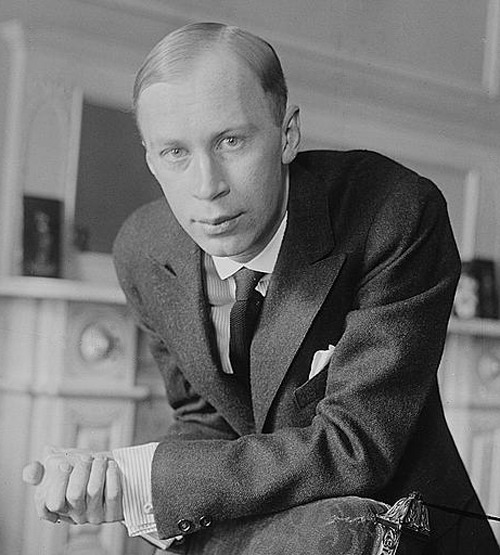 Sergei Prokofiev
Sergei Prokofiev was a Russian composer, pianist and conductor who mastered numerous musical genres and is regarded as one of the major composers of the 20th century.
A graduate of the St. Petersburg Conservatory, Prokofiev initially made his name as an iconoclastic composer-pianist, achieving notoriety with a series of ferociously dissonant and virtuosic works for his instrument and his first two piano concertos. Prokofiev's first major success breaking out of the composer-pianist mold was with his purely orchestral Scythian Suite, compiled from music originally composed for a ballet commissioned by Sergei Diaghilev.
Leaving Russia with the official blessing of his country after the Revolution, Prokofiev lived abroad in the United States, Germany, and France. Upon returning to Russia in 1936, he composed some of his signature works: Lieutenant Kijé, Peter and the Wolf, Romeo and Juliet, and Alexander Nevsky. The Nazi invasion of the USSR spurred him to compose his most ambitious work, an operatic version of Leo Tolstoy's War and Peace.
Commentary on Prokofiev casts him as the most popular composer of 20th century music. His orchestral music alone is played more frequently in the United States than almost any other composer of the last hundred years. In addition, his operas, ballets, chamber works, piano sonatas, and concertos appear regularly in the standard repertoire. Despite this, Prokofiev has somehow avoided the same appreciation and admiration of Western academics and critics afforded to other composers such as Igor Stravinsky and Arnold Schoenberg.
Nevertheless, Prokofiev remains a dominant musical force in contemporary music. Ovation Press is proud to have published an exclusive arrangement of his Classical Symphony for viola.
Exclusive Prokofiev Scores for Strings from Ovation Press
Loading Product Listings…