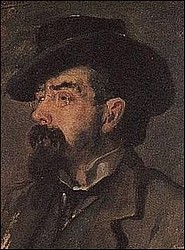 Francisco Tárrega
Francisco Tárrega was an influential Spanish composer and guitarist of the Romantic period.
Tárrega is considered to have laid the foundations for 20th century classical guitar and for increasing interest in the guitar as a recital instrument. As a composer Tárrega was conservative, with a style similar to the general trends in the second half of the 19th century. A virtuoso on his instrument, he was known as the "Sarasate of the guitar."
Tárrega's music and style of guitar playing became strongly influential in the twentieth century. Though his output was modest – having composed only 78 original scores and 120 transcriptions, mostly for his own use – his music caught on with many listeners and became quite popular. He was central to reviving the guitar as a solo instrument in recital and concerts. He also wrote what has been claimed to be "probably the world's most heard tune": the Nokia ringtone, Nokia tune, or simply Nokia, also used in advertising spots, is based on Tárrega's Gran Vals. His music also inspired Mike Oldfield to arrange Tárrega's tremolo study Recuerdos de la Alhambra for the soundtrack of the film The Killing Fields.
Exclusive Tárrega Scores for Strings from Ovation Press
Loading Product Listings…