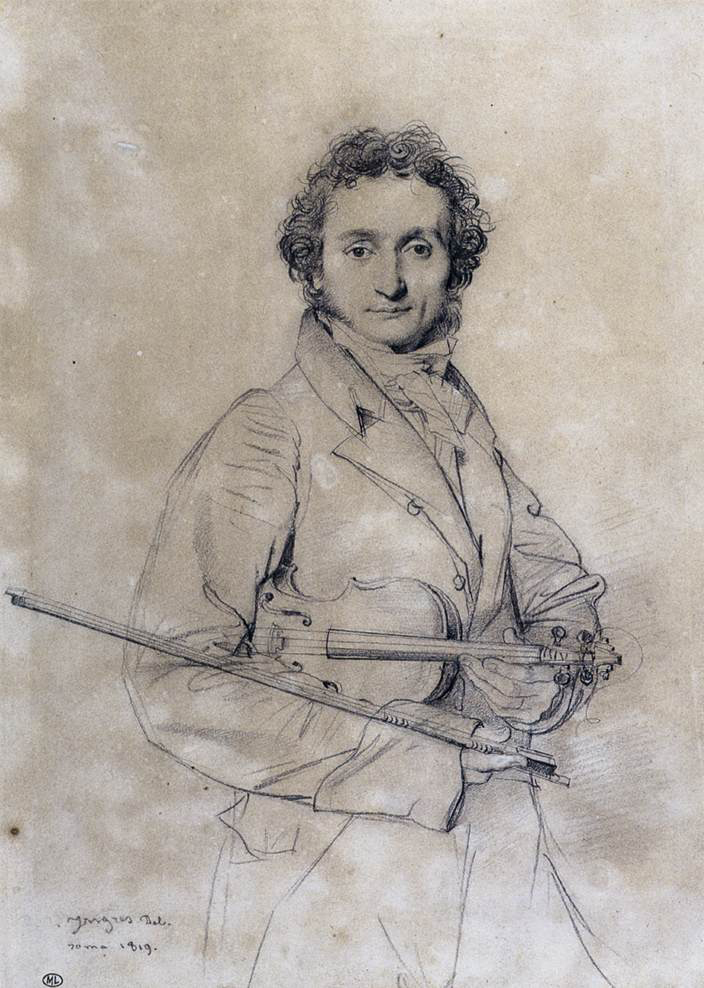 Niccolò Paganini
Niccolò Paganini was an Italian violinist, violist, guitarist, and composer known as the most celebrated musical virtuoso of his time. He is (in)famous for having established himself as a main pillar of modern violin technique, as well as influencing the development and practice of technique across many other instruments.
Paganini was born in Genoa, Italy and began learning the mandolin from his father at the age of five, moving to the violin by seven. His musical talents were quickly recognized, earning him numerous scholarships for violin lessons. The young Paganini studied under various local violinists, including Giovanni Servetto and Giacomo Costa, but his progress quickly outpaced their abilities. Paganini and his father then traveled to Parma to seek further guidance from Alessandro Rolla. But upon listening to Paganini's playing, Rolla immediately referred him to his own teacher, Ferdinando Paer and, later, Paer's own teacher, Gasparo Ghiretti. Though Paganini did not stay long with Paer or Ghiretti, the two had considerable influence on his composition style.
Over the course of the next decade, Paganini held several positions but mainly earned his living and name from freelancing. He toured in the areas surrounding Parma and Genoa and became popular with the local audience, though he was still relatively unknown in Europe. His first break came from an 1813 concert which took place at La Scala in Milan. The concert was a great success, and as a result Paganini began to attract the attention of other prominent musicians across Europe. His concert tour that started in Vienna in August, 1828 ignited his reputation. He stopped in every major European city in Germany, Poland, and Bohemia until February, 1831 in Strasbourg. This was followed by tours in Paris and Britain. His technical ability and his willingness to display it received much critical acclaim.
Paganini composed his own works to play exclusively in his concerts, all of which had profound influences on the evolution of violin techniques. Also during this period, he composed the majority of the solo pieces, duo-sonatas, trios and quartets for the guitar. In addition to his own compositions, theme and variations being the most popular, Paganini performed modified versions of works (primarily concertos) written by his early contemporaries.
Since his time, Paganini has been the inspiration for many prominent composers. Both La Campanella and the A-minor Caprice No. 24 have been objects of interest for a number of composers, including Liszt, Schumann, Brahms, Rachmaninoff, and many others. Our own editors at Ovation Press have also found Pagnini to be a fascinating musical subject, crafting original arrangements of several of his works such as his Ninth Caprice.
Exclusive Paganini Scores for Strings from Ovation Press
Loading Product Listings…