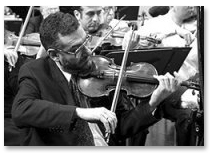 Charles Pikler
Charles Pikler joined the Chicago Symphony Orchestra as a violinist in 1978 and, in 1986, he was named principal violist.
Charlie studied the piano with his parents and violin with Ben Ornstein, Bronislaw Gimpel at the University of Connecticut, and Roman Totenberg at the Tanglewood Young Artist Program at the Berkshire Music Center. He appeared as soloist with the Hartford Symphony Orchestra, Eastern Connecticut Symphony, and Manchester Civic Orchestra, among others. He holds a degree in mathematics with distinct honors from the University of Minnesota.
He launched his career as a violinist with the Minnesota Orchestra in 1971, later becoming a member of the Cleveland Orchestra (1974 to 1976) and the Rotterdam Philharmonic (1976 to 1978).
He has been featured as a soloist with the CSO, as well as with other orchestras in the Chicago area. Additionally, he has also been soloist with the Kingsport Tennessee Symphony, Orchestra of the Pines in Nacogdoches, Texas, the National Symphony Orchestra of Costa Rica, and the National Taiwan Symphony Orchestra.
Charlie served as concertmaster of the Chicago Chamber Orchestra under Dieter Kober, touring with it and also performing as soloist; the Sinfonia Orchestra of Chicago; the Orchestra of the Apollo Chorus; the Ars Viva Orchestra; the Chicago Opera Theater Orchestra; the Symphony of Oak Park and River Forest; and the River Cities Philharmonic. He currently is concertmaster of the Northbrook Symphony under Lawrence Rapchak.
A chamber music enthusiast, he performs with several ensembles, including the Chicago Symphony String Quartet. Charlie has been a guest artist with the Daniel String Quartet in Holland, the Vermeer Quartet of De Kalb, and the Louisville String Quartet. In 1990, he performed Frank Beezhold's Viola Concerto, which was composed for and dedicated to him, with the Civic Orchestra of Chicago at Orchestra Hall. He also has recorded it in the composer's own transcription for piano and viola with Dorothy Shultz. In 1995 and 1996, he served as guest principal viola for the Boston Symphony under Seiji Ozawa. Charlie also served as principal violist of the Grand Teton Festival Orchestra in Jackson Hole, Wyoming.
Charlie is on the faculties of North Park University and Northwestern University, as well as the Sewanee Summer Music Center in Sewanee, Tennessee. He was featured as soloist on the Sewanee Symphony's recording of Berlioz's Harold in Italy for Solo Viola and Orchestra, with Victor Yampolsky conducting. He also enjoys coaching Civic Orchestra of Chicago sectionals as well as other orchestras and chamber ensembles.
Charlie and his wife, Ruth, have two sons, David and Andrew, and a daughter, Amy.
Below you will find the complete list of scores edited by Charlie Pikler.
Loading Product Listings…