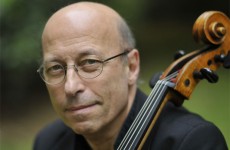 We have a real treat for you on our blog String Visions - an exclusive interview with editor Roland Pidoux. Mr. Pidoux shares with us some of his musical and professional experiences, as well as discussing his approach in creating two outstanding arrangements for cello ensemble: Rachmaninoff's Vocalise for Cello Octet and Fauré's Après un rêve for Cello Octet.
Twitter
Follow @ovationpress
OvationPress: Recap of our new #cello scores released over the last couple months!
t.co/SAk9R6zt5j
OvationPress: DEADLINE - MAY 1st: Classical music festival aims to draw musicians all over the world to Southern France
t.co/hWLK3tqBBZ
OvationPress: Our latest arrangement - #Chopin Etude arranged for #Cello Quartet
t.co/I0zXlvMyRK
OvationPress: @sciolinoartists Thanks for the RT!
OvationPress: The final article in our professional series "What Classical Musicians Lack" has been posted -
t.co/omUDBVlamf
OvationPress: Carter Brey to perform the #Bach complete #CelloSuites this week with the @nyphil
t.co/X63UVTpGJx
More News

  RSS Feed